The original lineup has been (left to right):
Sven Frimont, Thomas Tamke, Matthias Behrens,
Martin Stahlke, Gero Dumrath and Thomas Loschen
QUANTITY was formed 1991 as a project for youth community of the lutheric church in Metjendorf, a small town near Oldenburg.Some teenagers and some employees of the church met every Monday within the youth-cellar to make some noise and have some fun. The first time was horrible - instruments were cheap and noone was very skilled on them. But after some time QUANTITY composed a few songs and played them in front of other teenagers.

Time went by and QUANTITY worked a lot and bought some better instruments. Even the skill gets better and better. The repertoire of songs grewed more and more and QUANTITY thought the time should come to have a gig.

The first "gig" was at a pub called "Cafe Chaplin" in Oldenburg. O.K, only a few people came and the stage was very small, but it was very exiting and the success was, that QUANTITY worked on.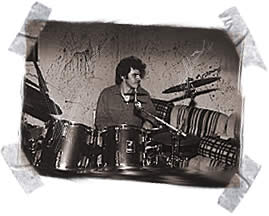 On Friday, the 10th of january 1992, QUANTITY has had a second gig at the "Neujahrsworkshop" in Bad Zwischenahn. This little band of beginners in front of nearly 500 people!

Manuel Bunger recorded the gig with two mics and a tapedeck - Download these songs under "Live1991".Some time later the lineup got its first change. Martin Stahlke left QUANTITY and Peter Borchers joined us as a second guitar player. He got a classical jazzguitar education and changed the sound a bit.

Some time went by and also Matthias Behrens left and Uwe Doms took his place within the band.
In this lineup (Thomas Tamke, Gero Dumrath, Thomas Loschen, Sven Frimont, Peter Borchers and Uwe Doms) QUANTITY performed the last gig of with Thomas Loschen as a leadsinger in Westerstede '93. The material you can find under "Live 1993" represents very good the sound of the band with the new lineup and the reaction of the audience.
- Thomas Loschen
The mp3s were originally recorded to cassette. Sound quality is limited to this fact; but they preserve the music as far as possible – enjoy loud and have fun!